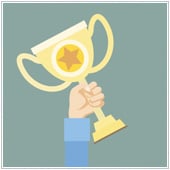 Businesses who are looking to increase or encourage customer and employee interaction, while simultaneously boosting the quality and amount of data collected, have a number of options at their disposal. One of the increasingly popular choices is called gamification. Here is a quick overview of the process and how some small businesses have implemented it.
What is gamification?
It's human nature to be competitive, and many of us exercise this nature by playing games. Be it team sports, board games, video games, or even office-related games, many of us partake in some form of game on a regular basis. Gamification is the incorporation of game elements, such as points, rules of play, competition, etc. into business-related processes.
By implementing game elements into areas like marketing or training, you can drive engagement, while also collecting better data, primarily because most people will be more willing to provide relevant information when they are invested in a game.
When it comes to implementing these elements into business processes, many companies tend to focus on either customer gamification or employee gamification.
Customer gamification
The vast majority of customer-oriented gamification relates to rewards programs and repeat customers. Small to medium businesses who have successfully implemented these elements usually do so via social media and mobile apps. Repeat customers gain points for each purchase and when they reach a certain level receive a freebie perhaps or a rebate. This in turn drives the need to keep purchasing and to "win".
Many businesses have been successful in implementing this game characteristic into social media, where people who interact gain levels and therefore access to such benefits as discounts. Businesses implementing customer-oriented gamification often see both increased engagement and better data flowing into the organization. In fact, many businesses have found that the data implemented through these elements has been useful in decision-making and overall business intelligence efforts.
Employee gamification
Employee-based gamification is usually employed by businesses to encourage teams and individuals to work together towards a common goal. For example: Implementing a point or badge-based sales system where at certain sales levels badges are awarded, which can then be used for a reward, has proven to be incredibly successful for many sales-oriented companies. Publicly announced results and recognized rewards can also be a great employee motivator.
As with customer gamification, employee gamification can be a great source of data. For example, by tracking where employees are, and their results, you can quickly see weak spots or places where help may be needed. Essentially, more data means the ability to make better decisions.
Should my company implement gamification?
While this may sound like an exciting, and useful tactic to implement in your business, it's not for everyone and it won't fit well with all activities. What you should do is to look at whether the objectives and goals of the program you wish to implement can also be paired with gamification.
If you find that gamification, or elements of it, won't benefit your business program, then it's best not to implement it for the sake of it.
How to implement gamification
There are a wide number of mobile apps developed around gamification, along with social elements and ideas. What we suggest is talking to us to see how we can help first. We can work with you to find solutions and ways to implement your solutions. Contact us today to start the game of business success.
Published with permission from TechAdvisory.org. Source.