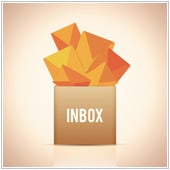 Without a doubt, email is one of the most essential business tools. Many people find it quicker and easier to simply email someone instead of calling and as such, businesses have integrated platforms like Gmail which have fast become indispensable tools. The problem with this is that it is a challenge to manage emails and this can create problems when it comes to finding important information. Recently, Google launched a new app called Inbox, which could help combat this problem.
What is Inbox?
Inbox is an Android, iOS and Web service that helps us get things done and work with our email messages in a new way. Your emails still go to your gmail account; just think of this as an app or service that helps you reduce overall inbox clutter while being able to quickly access the info you need. It achieves this by:
Bundling useful messages together
With Inbox, all similar messages are brought together into one category or bundle. Think of the categories feature introduced for Gmail last year, but on a grander scale. If for example, you travel a lot for work, travel related emails like flights, hotel bookings, and messages related to meetings will be grouped together.
The great thing about this is that you can teach Inbox to group emails in a way that suits you. This allows more control over categories and message bundles, while making it easier to find related messages. For example, if you use your work account to pay bills and to receive receipts for online payments, you can manually filter these together and Inbox will 'bundle' these together in the future.
Highlighting important information
Inbox highlights important information in emails, including: Flight information, event information, and even documents attached to messages. This not only makes it easier to see the most relevant information, it can even help reveal information you may have missed.
Beyond this, Inbox also displays real-time information from the Web. For example, if you have a flight and it is going to be delayed, this information will be shown in the email as a highlighted update.
Adding reminders
With Inbox you can automatically create reminders that notify you at a set time of a task you need to complete. This is an interesting feature because it really centralizes our to-do list into a place where we are already looking at important messages and information.
There is also a sub-feature of the reminders built into Inbox called Assist. This feature provides you with relevant information for your reminders. For example, if you set a reminder to meet a client for lunch at a restaurant, you will see the restaurant's name and number displayed in the reminder. Google has noted that this will work for flights as well - so, if you receive an email with flight information and booking numbers, you will get a link via Inbox to check-in directly.
How do I get Inbox?
For now, you can download the Inbox app for iOS and Android, but in order to use it you will need an invite. If a friend or colleague has one, they can invite other users to join, or you can email inbox@google.com and request an invite. Google sends these out on a fairly regular basis, so you should receive one in the near future.
If you are looking to learn more about Inbox, contact us today to see how we can help.
Published with permission from TechAdvisory.org. Source.