We've built a team of the great IT Professionals, and we're proud to celebrate their hard work! Our clients also have great things to say about them.
"Kevin was super to work with today - he stuck with the issue until it was resolved and was able to check-in with me to verify things were working properly before closing the ticket. Excellent Experience!"
"Excellent communication and follow through from Joseph. He understood the issue and resolved it quickly."
"Not only did Eric resolve ALL of my issues he was professional, knowledgeable and friendly. Perfect 10!"
"Nick was a great help. He clearly explained everything that was happening and made sure we set up properly."
"What can I say...with WIN in his name, we always get a WINning solution for our onsite IT needs. Had he been named LOSEfield, I can't say our satisfaction rate would have been as high. Thanks for your help today, WINfield, WINfield, WINfield...woot...woot!"
"Matt is great. I enjoy his monthly visits. Thank you so much for the great work you do for us!"
"James was able to resolve the issue very quickly as it was not a major problem. But he also did it without making me feel like a dope. :)"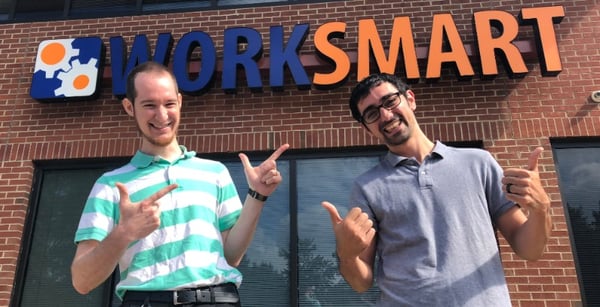 "Michael, Mike, Dave, & Bill were all wonderful to work with throughout the implementation/on-boarding process! Very attentive to our needs as their client and always willing to go to bat for us with third parties."
"Tyler was really engaging. Showed care for my issue and was efficient and personable. A huge improvement from the company that we used previously."
"Bianca is a true asset to Work Smart. She has consistently provided the highest quality of customer service! Promote or give that girl a raise!!!"
"Eric is super efficient :)"
"Patient, kind and knowledgeable...great to work with you Mike! He even got kudos from our CEO!"
"Doug is the best IT person in town! He always resolves our issues and adds humor to our day. We could not recommend him any higher."
"Timothy was awesome. He solved the problem with my VPN so I can now remote in from home! Yay! Thanks again to him for his excellent support."
"Britt, Thank you kindly for your help. Not only were you efficient and quick, but also funny! I appreciate your help."
"10's across the board!!! Michael is always so willing to play 100 questions. I value his opinion and knowledge so I really appreciate when he makes the time for my calls. Thanks so much!"
"Adrian was AMAZING! So patient and So kind! His friendliness was felt over the phone. Great people and great customer service goes a long way!"
"Chris did an excellent job. Both computers worked perfectly after set up. Thank you!"
"John was very helpful and took the "I am thoroughly impressed with William's promptness and responsiveness. He is extremely professional and personable. He is a great asset to your IT team. Marco was quick to respond and help me with my QuickBooks issue. Thank you!"time to make sure I understood the solution, offered helpful side tips along the way and answered a couple of quick questions that weren't related to the initial request. I appreciate his time and knowledge."
"Brian was a great help today in restoring Raisers Edge for me. He was very thorough and professional.Thank you."
"Marco did a great job of following up on my ticket. When we did connect, he was patient and successfully got my email up and running properly."
"Derek was incredible! Even though he had an upcoming appointment, he still took the time to quickly resolve my issue. Excellent customer service! Very knowledgeable!"
"Seriously, Mark is great! So easy to work with and happily explains everything when I ask a million (ridiculously non-tech savvy) questions."
"Justin has done a great job. I know it's been tough here because we're, not only changing everyone to Windows 10 Pro, but putting in a new phone system also. He has ran his legs off. I would be willing to bet he's at least 2 inches shorter than he was from all of the running. He's great!"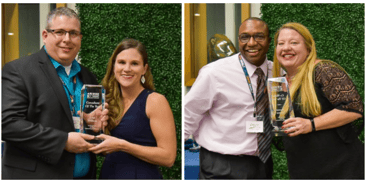 "Michael is always great to work with."
"David P. did a great job and everything went smoothly. Big thank you to David and everyone on the WorkSmart team especially David R. who coordinated everything in the background."
"I worked extensively with Riley on the server project. He was very professional and kept me informed of the progress along the way. Riley was very good to answer questions and respond in a timely manner. At the close of the project he made sure some of the final issues were taken care of quickly and even offered to work outside office hours to fix a remote login issue. As always, everyone we have worked with at Worksmart has been great."
"Rob was incredible. He was able to quickly resolve our VPN issue. Rob delivers excellent customer service, is very professional and very knowledgeable! Well done!"
"Brandon visited our site at the scheduled time, and did an excellent job executing plans. He also resolved an issue that we were unaware of while he was on site. Very pleased with the support we are receiving."
"Dave is a fountain of knowledge and always very calmly answers all of our (my) questions, no matter how ridiculous!"
"Chad & Chris were super helpful and very quick to respond to this request. Communication, knowledge and willingness to help all excellent. "
"Chad is fantastic to work with and his suggestions to fix our issue worked perfectly. We're always glad to have him help us."
"Patrick was a very personable employee to work with in resolving my issue. He was efficient and knew exactly what to do, all while being very friendly. I am incredibly satisfied with the service."